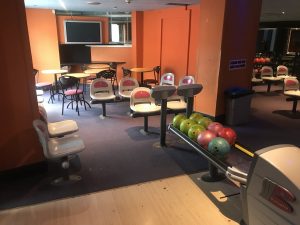 Why not have your Children's Birthday Party at Bundoran Glowbowl?
Special Bowling rate for Birthday Parties is €5.00 per child and this gives One Hour of Bowling Time
Our Glowbowl Special – Birthday Boy/Girl bowls for free! 🙂
We have a special area behind Lanes 7 & 8 with tables/chairs where we can facilitate your child's Birthday Party.
Kids Ball Ramps for easy playing bowling.
Disco Lights – Music – Big Screen Video – Fun Fun Fun!
You can bring your own food for the Party or we can arrange the food for you.
**** New Party Area coming soon ****
Menu for Birthday Party Food
Sausages, Chips & Diluted Drink
Chicken Goujons, Chips & Diluted Drink
Chicken Nuggets, Chips & Diluted Drink
All Meals €4.50
Note: Food must be confirmed at time of booking
Food supplied to us by Mama Rosa's
Or Telephone 071 9842111