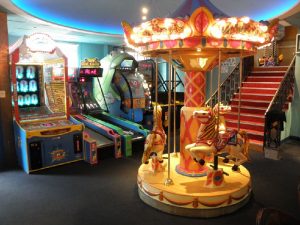 Open every day
from 9:30am until 12 Midnight.
Our Amusements Areas have everything to keep the children and Daddies and Mammies happy 🙂
Ticket Redemption Machines where you can collect or save for Great Prizes in our Prize Shop.
Basketball Machines, Bowling Ball Games, Teddy Prize Cranes, Pushers, Car & Gun Video Games, Bingo & Popular TV based games.
Kiddies Korner with interactive rides.
Complimentary Customer WiFi Throughout the building.